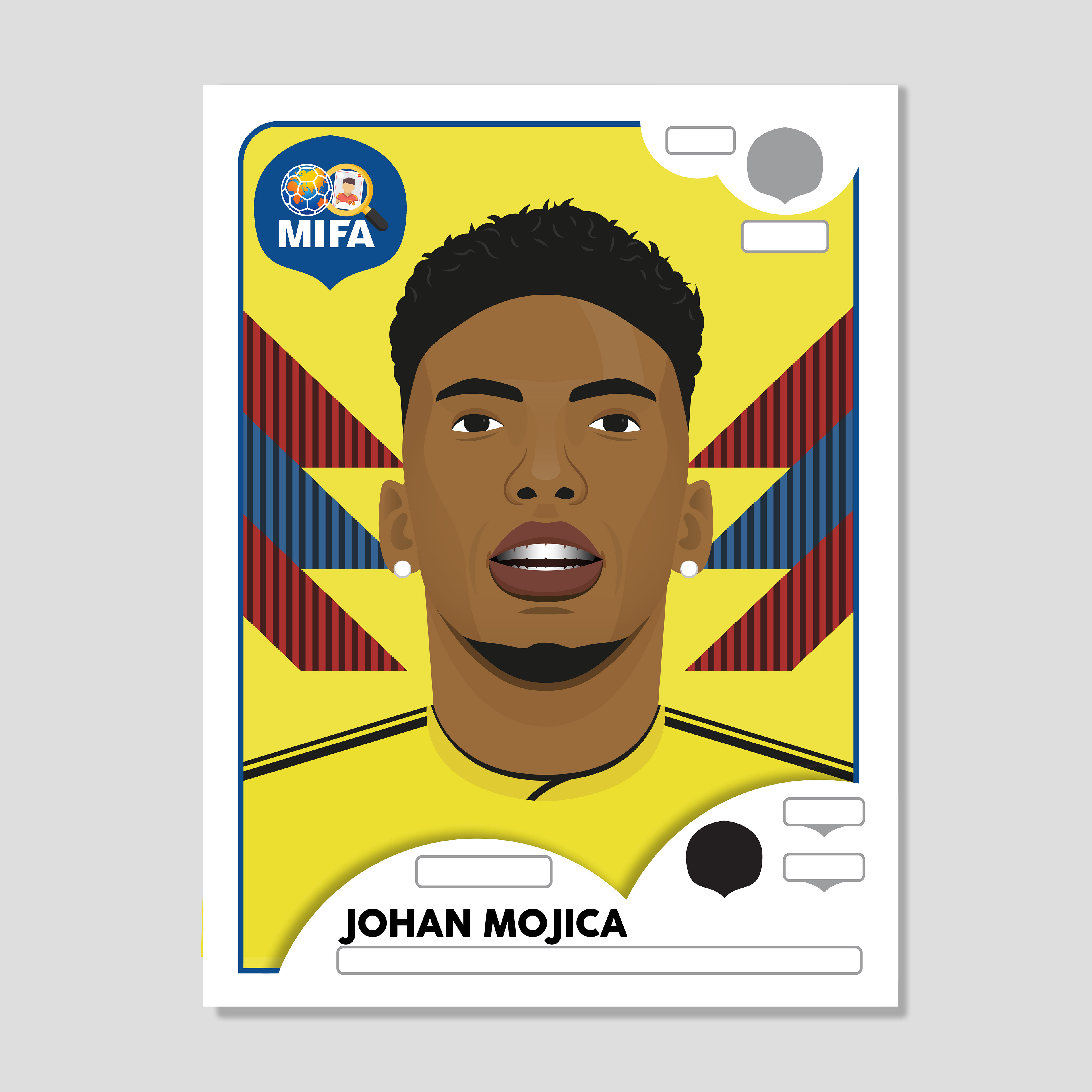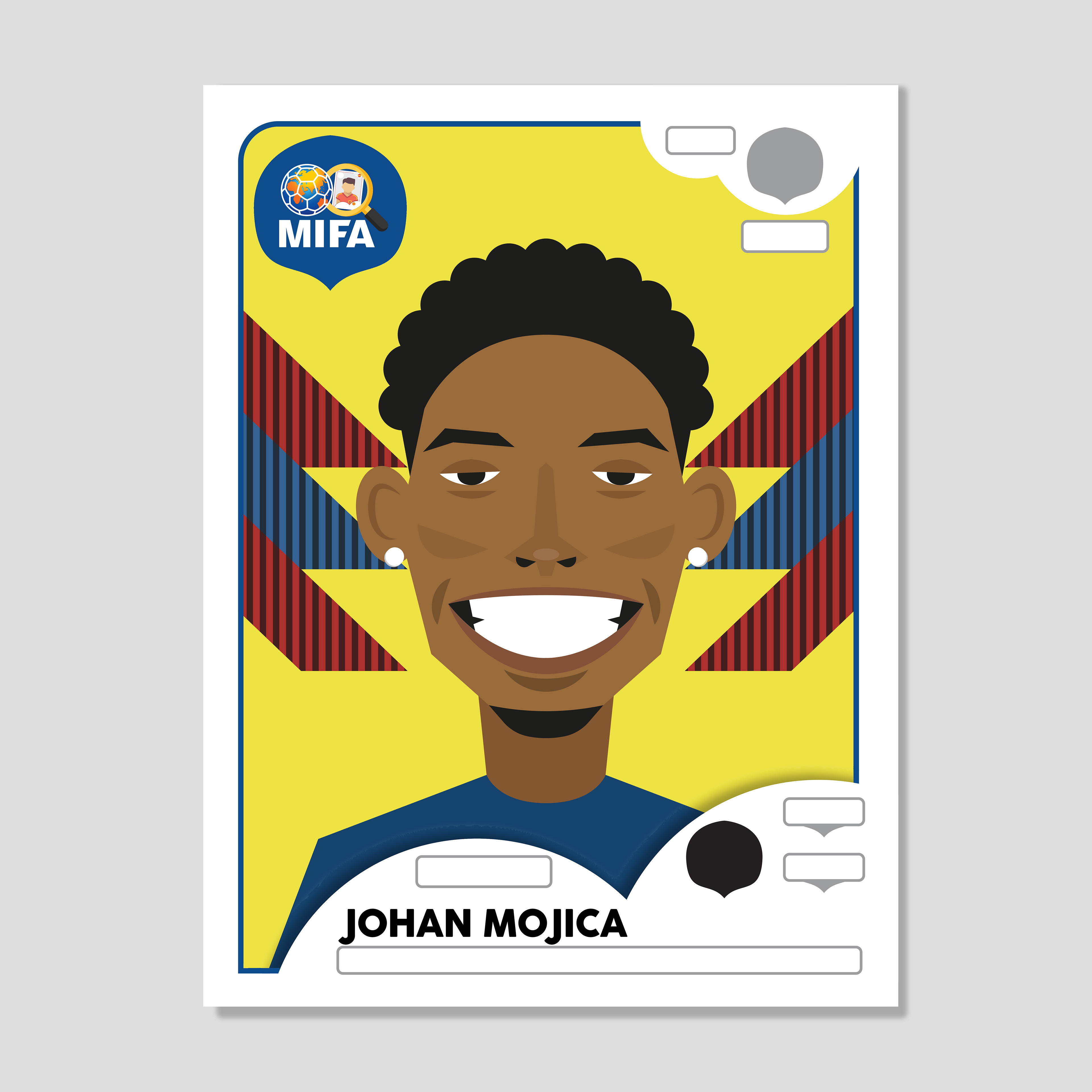 A football illustrator I follow on social media and whose work I admire, Dave Will, often does collaborative projects that unites the illustrators and artists around the world. The first one I took part in was for the 2018 World Cup. The idea centred around the Panini sticker books – or more to the point, the players who didn't feature in the official sticker book. Dave explains himself here…
'The 2018 Panini sticker book contains 682 stickers, featuring players, stadiums and badges from the 32 nations taking part in the 2018 World Cup. However, the book is released in April and the National Team Squads are not announced til May, so that often leaves some unfortunate footballers who are not included in the book.

This year, 254 players in total will be at the World Cup but missing from the official sticker album. The aim of the MIFA Project is to focus on those who have been missed out, by illustrating them instead! 200 artists from across the globe have come together to illustrate every single missing player and the results are spectacular!'​​​​​​​
I contacted him and was given Johan Mojica of Colombia. Knowing that I was on a project among some big names in football illustration circles, I wanted to step up my technique when doing facial illustrations. Mojica has a very distinct look so I tried to capture it as best as I could. He has somewhat peculiar eyes and a really wide bright smile judging by the research I did on his appearance. It took a couple of hours to do the first illustration (above left) then decided it wasn't as caricature-ish as I wanted, so I made the next one in half an hour and was more pleased with it in terms of interpreting his face onto screen with his exaggerated features. It required less technical finesse but more character to it.
Lo and behold, I submitted the second one as my final version and it found its way onto the top of the scattered image of other illustrations in the book. This led to being asked to take part in a similar project for Scottish team Hibernian who ran a similar project throughout the season where I was asked to illustrate a club legend to be included in their club programme on a matchday.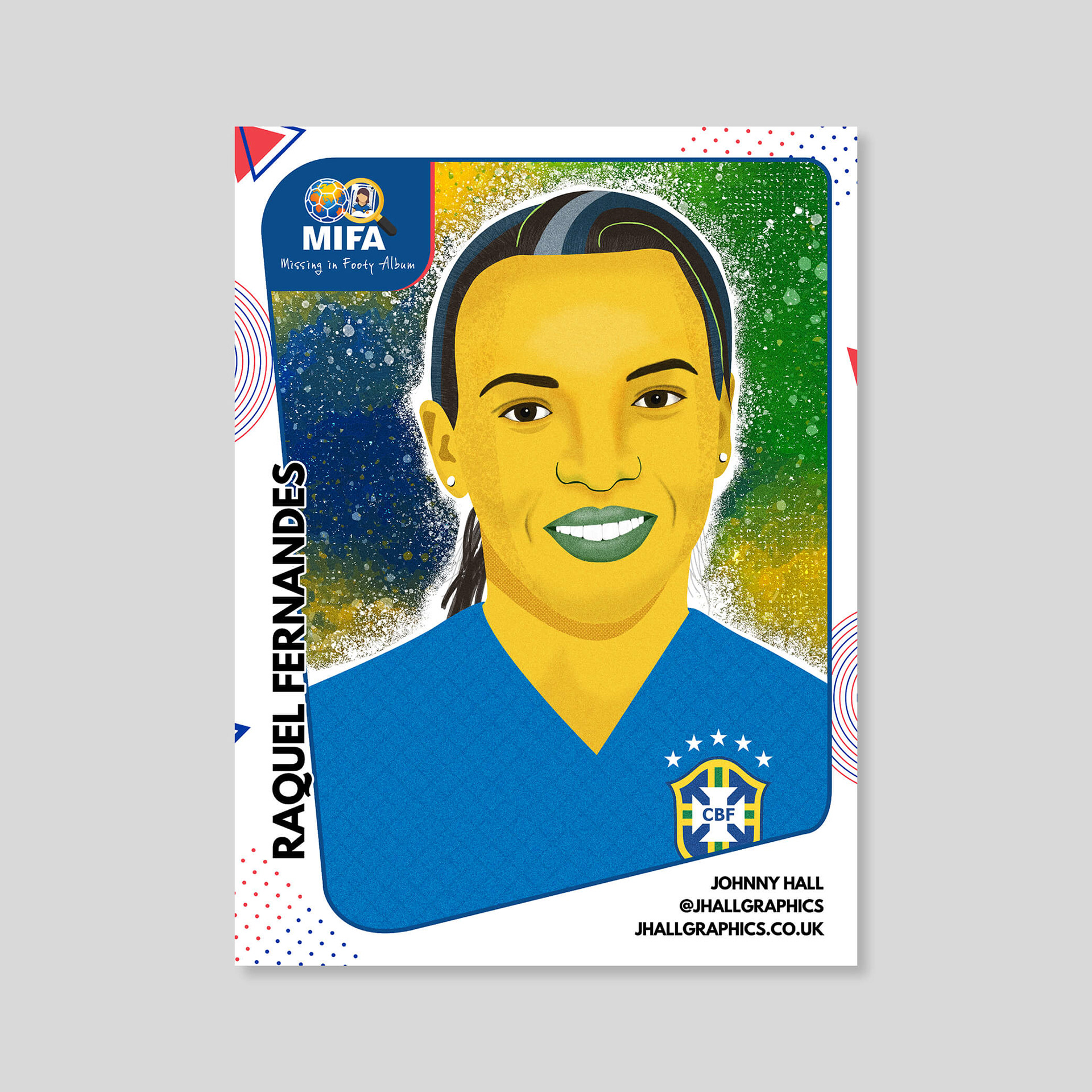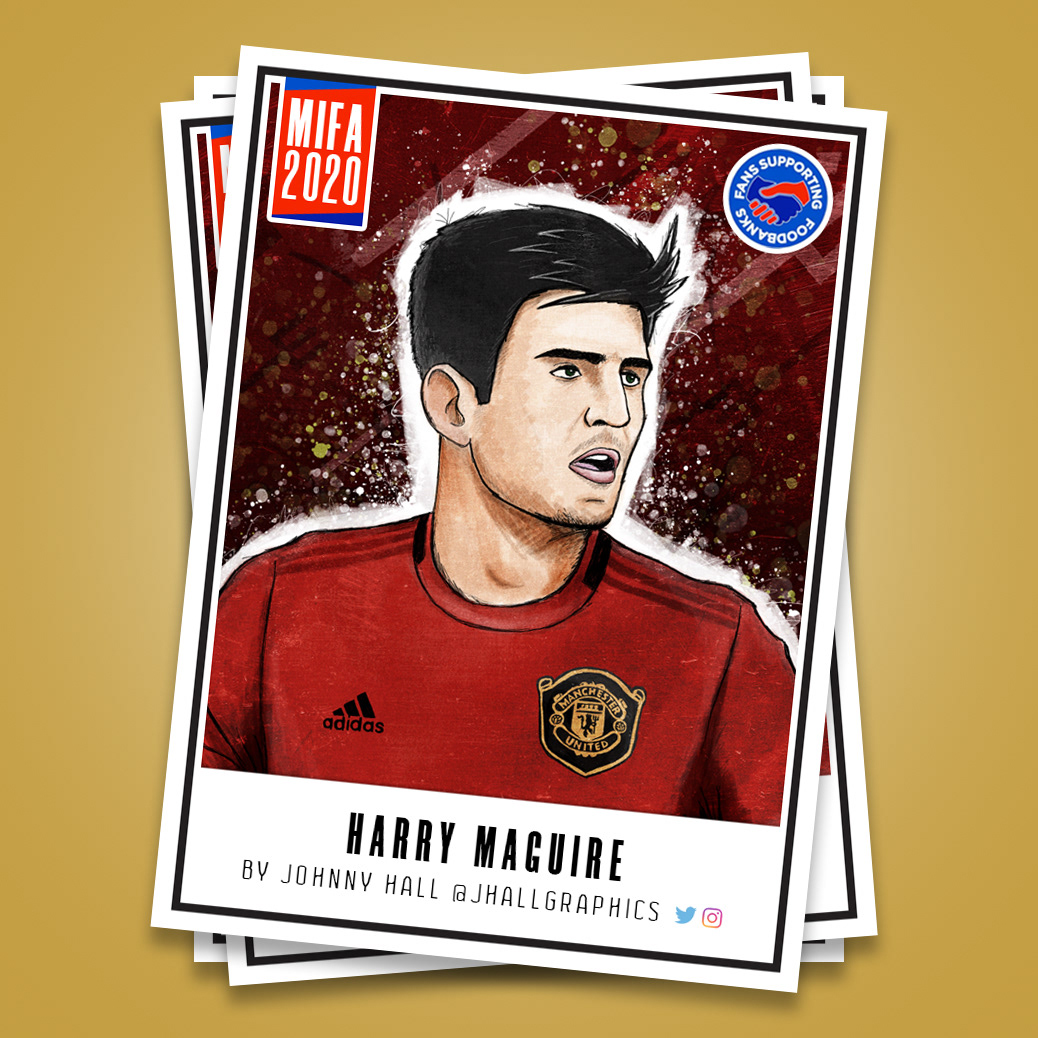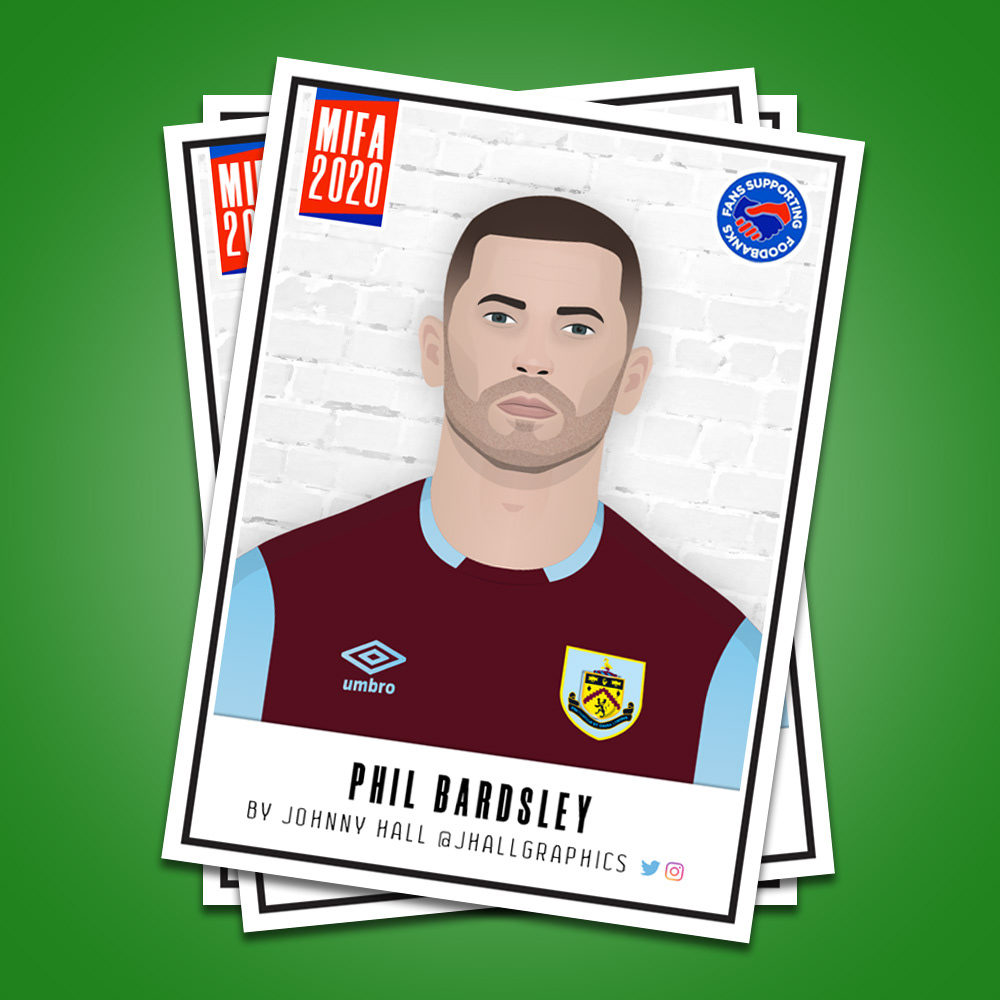 Dave did this project again for 2019 so I jumped at the chance to join in again. This time it was for the 2019 Women's World Cup. My chosen player was Raquel Fernandes who plays for Brazil. I got the Wacom tablet out for this one compared to last year. I wanted to do more of a digital painting this year compared to the vector style of last year. I'd been wanting to try something a bit more complex so I experimented with a few different textures, colours and brushes on this one and I was pretty pleased with it.
Then he did it again for the 2019/20 Premier League season but for the whole of the actual sticker book and not just for the missing players where illustrators had to donate to a food bank charity to choose their players to illustrate. I did two on this occasion, Phil Bardsley of Burnley and Manchester United captain Harry Maguire where I went for a vector style for Bardsley and used my new(ish) XP-Pen tablet which allows you to draw on the screen and worked a treat!